Category: News Publishing

News Lister – free news management script
-
http://www.netartmedia.net/newslister
News Lister is an absolutely free php script, which can be used to create simple news or articles management websites or to be integrated in existing websites to create news sections in them. News Lister isn't not using any database – the information is stored in local XML files. It's ...
Added on March 28, 2016

PHP Articles Directory Script - phpSoftPro
-
http://www.phpsoftpro.com/php-article-script.php
An article management system with extensive features, including an admin panel, complete smarty template system, SEO friendly URLs, Google AdSense integration, rating system, comments system, add to favorites feature, following users feature, unlimited categories and subcategories, Facebook login and more.
Added on October 17, 2015

Flippy ShareZone - FaithIt Clone Script
-
http://www.flippyscripts.com/flippy-sharezone-faithit-clone-script/
FaithIt becoming one of the most popular content showcase websites on the web today. If you would like to create a similar website like FaithIt(dot)com yourself Flippy ShareZone is the script for you. You can create a beautiful website with inspiring and viral content within few minutes with Flippy ShareZone.
Added on January 13, 2015

News-X3 Super Powerful PHP News Scripts
-
http://newsx3.com
Imagine if there was a way to provide new, relevant content from thousands of different sources every minute, automatically. How much more eager would a user be to come back for more?This is exactly why News-X3 was created, to give you the opportunity to automatically provide your users with an ...
Added on January 30, 2015

SP Articles
-
http://www.scriptspack.com/php-article-directory-script.php
SP Articles is a powerful PHP Article script written in PHP on MySQL database backend that allows you to run your own free article directory website.Features: Simple one step installation, contact us, comments system, advanced admin panel, multilanguage, tags, smarty cache system and more.
Added on May 19, 2014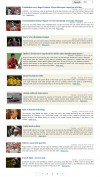 NewsLetter Script PHP
-
http://newsletterscriptphp.com
NewsLetter Script PHP is a simple for installation and usage, PHP and MySQL based script for creating news and sending them on subscriber's emails. Here are the main features of NewsLetter Script PHP: - one step installation; - simple and friendly admin area; - just drop one line of code ...
Added on January 29, 2014

PHP News Script
-
http://www.phpjabbers.com/php-news-script/
Embed a small and stylish news widget into your website, easily update web content and publish news on your website. The PHP News Script is easy but highly customizable news management system. At the back-end you have powerful news management system which makes the news publishing easy as a piece ...
Added on May 7, 2014

ScriptFolder Bookmark Drive – Social News and Bookmarking Script
-
http://www.scriptfolder.com/scriptfolder-bookmark-drive-social-news-and-bookmarking-script/
Script Folder's latest amazing product is "ScriptFolder Bookmark Drive". ScriptFolder Bookmark Drive will let you make news/story and link shearing website within 10 minutes. ScriptFolder Bookmark Drive brings you list of amazing features right out of the box. Try using "ScriptFolder Bookmark Drive" and start your own Social News/Bookmark site ...
Added on April 7, 2014

Inout Article Base - Featured Article Management Script for Your Website
-
http://www.inoutscripts.com/products/inout_article_base/?index1
Inout Article Base is a powerful, feature rich, affordable, easy to use article script that works on PHP + MySQL. This is a highly Search Engine Optimized script which helps you to publish unlimited number of articles. Features Include # Unlimited Members # Admin and Members can post unlimited Articles ...
Added on July 3, 2014

MaPa Articles
-
http://markerpaper.com/php-article-script.php
Professional, fully customizable PHP script to create an online Free Article Directory Website. Main Features: Comments system, admin panel for adding, editing, and removing categories and articles, SEO optimized (SEO friendly URL-s, Meta Tags).
Added on June 1, 2015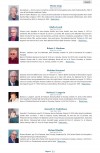 Funeral Script PHP
-
http://funeralscriptphp.com
Funeral Script PHP is the easiest way to place obituaries on your website and is designed to be included into your web layout. Visitors to your website will be able read the obituaries and leave comments on the guestbook. Features: - One step installation wizard; - Password protected admin panel; ...
Added on January 29, 2014
MTP News script
-
http://www.morephp.net
MTP News script is a news management system scripts that allows you to easily publish, edit and modify articles. Unlike other news management scripts, MTP News script been especially designed for web designers, it is the ultimate solution for webmaster and designer to manage and integrate posts.Basic features:Article categories and ...
Added on May 10, 2013
News Script PHP Pro
-
http://www.newsscriptphp.com/newsscriptphppro
If you need a news publishing script on your website, you're at the right place. News Script PHP Pro is designed to be integrated into your website. Visitors to your website will be able read your news and leave comments. News Script PHP Pro features: * one step installation wizard; ...
Added on May 10, 2013
Gnews Publisher
-
http://www.gazatem.com/gnews/
Gnews provides an easy way to professionally publish an online news publication, online newspaper and e-magazine portal. It's an ideal solution to run a news portal including video galleries, photo galleries, article directory, news and headline management with topics. Completely search engine friendly. Open source code and comes with free ...
Added on November 19, 2014