Visit Publisher Site
AliBaba Clone Mall Software





(1 Reviews)
---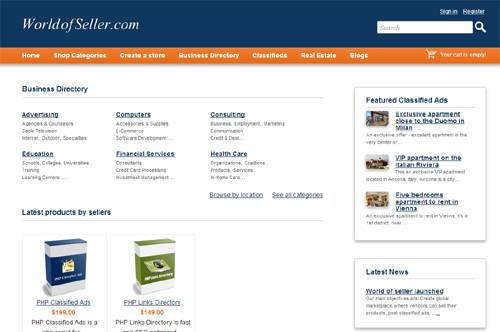 Launch your own AliBaba like online marketplace with our php mall software. It offers tons of features to the companies / businesses to list and sell their products online and to the administrators to manage the whole site.
Now we have a new version offering new functionality like for example:
New dashboard in the vendors admin space
The new dashboard in the vendors admin panel provides statistics to the vendor for his current products, pages, news etc. and also allows to review the recent products and has quick links to change the store template and manage the structure and content.
From the dashboard the vendors can also see the last posted product reviews and add new products.
Product Reviews
The new products reviews functionality allows the customers to rate the products and post a review. The reviews and product rating show up after on the page showing the detailed information for the product.
The vendor can see and manage the reviews for his products from the vendors admin space.
Customer Loyalty Program
The new customers loyalty program allows the customers to earn points when they shop online (the products participating in the program, as well as the points can be set by the vendor).
The customers can after that redeem the earned points and use them for example to get a free product (from the ones selected by the vendor).
Multi level global product categories
In earlier versions only the vendors were able to create multi level categories for their products on their stores.
This feature is now available also to the administrator for the global categories - the sub categories show up on the main mall website with dynamic menus.
Check our website for more information and online demos!
Listed in
B2B - Alibaba Clone
category
Featured Listing
---

DB Backup Tool
-
http://www.netartmedia.net/dbbackup
The DB Backup Tool is a free and easy to install script, which allows to create easily backups and generate dumps of MySQL databases. It can also compress the database backups and create zip files and also send them by email.DB Backup Tool has a responsive and password protected administration ...
Added on January 5, 2016