Visit Publisher Site
LimeSurvey - free script for online surveys





(0 Reviews)
---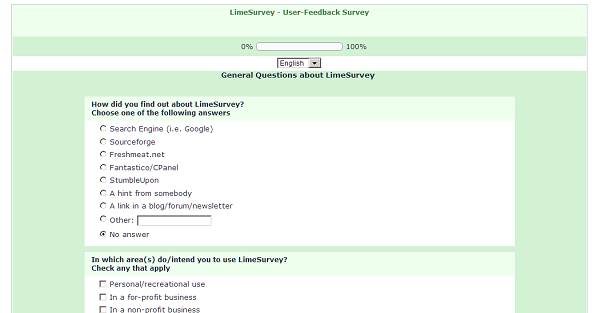 LimeSurvey is free and allows you to conduct an unlimited number of surveys at the same time. You can have an unlimited number of questions, multi-lingual surveys with built-in support for many languages, create a printable survey version, set conditions for questions depending on earlier answers (branching), reuse your answer sets, import questions, conduct assessment surveys, have an open and closed group of survey participants, optional public registrations, send invitations and reminders by email, allow participants to save answers to continue surveys later, automatic survey expiration, export data to CSV and Excel formats, have statistical and graphical analysis, create surveys either with radio buttons, drop down lists, lists with comments, multiple options, short texts, ranking, free text entry, arrays, etc.
LimeSurvey 2.x currently offers:
Unlimited number of surveys at the same time
Unlimited number of questions in a survey (only limited by your database)
Unlimited number of participants to a survey
Multi-lingual surveys
User-management
28 different question types with more to come
WYSIWYG HTML editor
Quotas management
Integration of pictures and movies into a survey
Creation of a printable survey version
Conditions for questions depending on earlier answers (Skip Logic / Branching)
Piping and Micro-tailoring using a powerful expression engine
Re-usable editable answer sets
Ready-made importable questions
Assessment surveys
Anonymous and Not-Anonymous survey
Open and closed group of participant surveys
Optional public registration for surveys
Sending of invitations, reminders and tokens by email
Option for participants to buffer answers to continue survey at a later time
Cookie or session based surveys
Template editor for creating your own page layout
Extended and user-friendly administration interface
Back-office data entry possibility
Survey expiry dates for automation
Enhanced import and export functions to text, CSV, PDF, SPSS, R, queXML and MS Excel format
Basic statistical and graphical analysis with export facility
Screen Reader Accessiblity
W3C compliance
Listed in
Online Surveys
category
Featured Listing
---

JobSite Professional
-
http://www.jobsiteprofessional.com
JobSite Professional is php jobs script that can be used to create easily job portal websites. It has various features for the employers to post jobs, make them featured, upload banners, search in the database with job seekers resumes and others and also for the job seekers to apply for ...
Added on April 19, 2013