Visit Publisher Site
Multi User Video Blog Portal





(1 Reviews)
---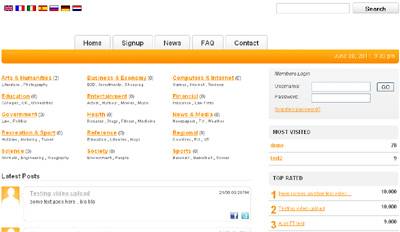 With this script you can create a multi user video blog portal - the users can create their blogs, upload video files and make video blog posts.
It offers different features to the users to create and maintain their own video blogs, like for example - make video posts, put them in categories, rate them, add comments, trackbacks, feeds (rss and atom supported), rss auto populate the blogs, advanced community functionality, friends lists, messages, powerful functionality for the bloggers to manage the blog design, 60 templates, user friendly interface, more than 20 language translations available, free and paid blog packages, occupied space and bandwidth monitoring and many others. The software makes possible for the users to upload different video file formats (mpg, wmv, avi, flv and others), it uses also FFMPEG to grab pictures from the video frames and show them as clickable video play links. You are welcome to visit our website for more information and online demos.
Listed in
Youtube Clone
category
Featured Listing
---

Web Site Creator
-
http://www.wscreator.com
The new version 2.0 is already available, now with 82 new user templates, new interface and plenty of other features. WSCreator (WS standing for WebSite) is a powerful multi user content management system, providing functionality for the new users to sign up and create and maintain online their websites. It ...
Added on June 13, 2013