Category: Shopping Carts

ATN Simple Cart
-
http://www.atnsolutions.com/atn-simple-cart
ATN Simple Cart is absolutely free, responsive and easy to integrate simple shopping cart script - you need to just include a single line of php code in your php file or add an iframe if you wish to insert it in a html file. No database is used and ...
Added on March 31, 2014

PHP Store
-
http://www.netartmedia.net/phpstore
PHP store is a single store e-commerce system written in PHP. The system can be used to create a website, online store, upload products on it and start selling online. PHP Store a flexible template system allowing to change the front site template and customize completely the look and feel. ...
Added on April 19, 2013

Apptha Spli Cart
-
https://www.apptha.com/magento/split-cart
As a marketplace admin, have you ever felt it complicated to process all your orders? To do away with all the complications, Apptha has launched Split Cart, a Magento extension, for multi-seller marketplace owners. Contrary to the single checkout, by using this extension the number of checkouts will depend on ...
Added on January 6, 2016

XYZ Shopping Cart
-
http://xyzscripts.com/php-scripts/xyz-shopping-cart/details
XYZ Shopping Cart is a simple yet complete PHP + MySQL based script which helps you to quickly launch an e-commerce website. You may use XYZ Shopping Cart to setup an online store for selling products under multiple categories or for catering to any specific niche.XYZ Shopping Cart is a ...
Added on November 28, 2017

Multi Vendor Ecommerce Software | Laravel Ecommerce
-
http://www.laravelecommerce.com/multi-vendor-shopping-cart-software/
Laravel Ecommerce provides effective multi merchant platform to build an online market place for enterprises. All in one e-commerce platform for SME business to increase online conversion.
Added on October 11, 2015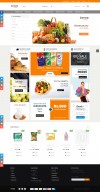 Grocery Basket
-
http://www.ecommercewebsitedevelopmentchennai.in/grocery-ecommerce-platform.html
EWDC's Grocery Basket is a readymade ecommerce software platform that powers 100+ features, 20+ payment gateways, and super customizable options to fuel the online store for its successful sales and revenue. This pre-built online shopping cart software is built with Magento, one of the leading ecommerce platform around the web.
Added on June 21, 2016

PrestaShop Checkout Manager
-
http://www.fmemodules.com/en/51-custom-fields.html
PrestaShop Checkout Manager allows the e-merchants to create any type of extra field on checkout page of customers. This plugin allows to create following fields on checkout.text field, text area, date, yes/no, multi-select, drop-down, checkbox, radio button, and message only. Also this extension performs an auto-validation of fields when customer ...
Added on July 15, 2015

Duceplus - Shopping cart script
-
http://www.duceplus.com/
Duceplus is an impressive product from Technoduce which allow you to buy and sell under single platform. The site reflects up-to-date inventory management. The minimum re-order level can be triggered by the site. Mobile apps are available for Duceplus which makes it easier for the end user to make a ...
Added on December 23, 2014
Shopify Clone
-
http://www.roamsofttech.com/shopify-clone-script
Shopify Clone is an one of the online store builders script and grant users to sell product through online by offering entire requirements to design an online store website. It offers a skilled online storefront, logical payment options and POS application to boost up the retail sales. - See more ...
Added on December 16, 2014